The Index Editor is placed within the Table Editor dialog. It allows you to modify the list of table indexes as well as index properties.
The main element of the editor is the index list, which displays all indexes available within the table. The columns of the list allow you to modify the properties of the selected index.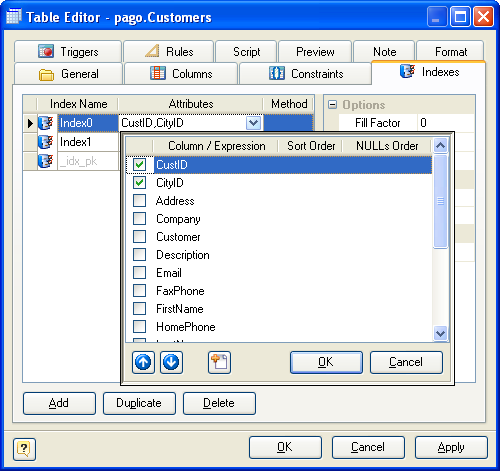 These properties are:

Since an ordered index can be scanned either forward or backward, it is not normally useful to create a single-column DESC index — that sort ordering is already available with a regular index. The value of these options is that multicolumn indexes can be created that match the sort ordering requested by a mixed-ordering query, such as SELECT ... ORDER BY x ASC, y DESC.

The NULLs Order options are useful if you need to support "nulls sort low" behavior, rather than the default "nulls sort high", in queries that depend on indexes to avoid sorting steps.
The buttons under the list of indexes allows you to perform the following actions:
§Add - add a new index with the default properties to the end of the list;
§Duplicate - add a new index with the same properties as the selected index to the end of the list;
§Delete - remove the selected index from the list;
§Up/Down - move the selected index along the list.
See also:
Diagram Objects: Index Manager