The Diagram Properties tool can be called be selecting Diagram | Diagram Properties from the ribbon-menu, or by clicking on the Properties menu item in diagram's popup menu.
Diagram Properties editor is a tool for setting basic diagram overview information and getting diagram numerical statistics. Diagram Properties editor also allows you to view diagram SQL preview.
General diagram properties
On General tab you can type in auxiliary information about the diagram creator, the diagram name and such. This information helps you to identify your diagram. It will be displayed on the Stamp diagram object and in the diagram reports.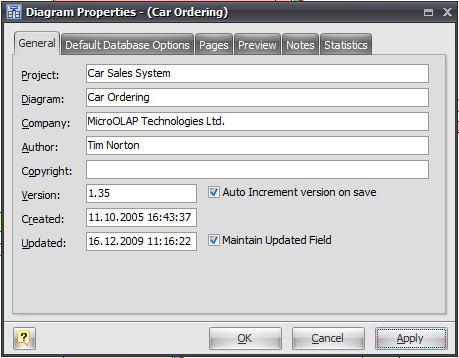 Please note:
You can place Stamp object to your diagram to display main diagram properties.
See also:
Diagram: "Default Database Options" tab | "Pages" tab | "Preview" tab | "Notes" tab | "Statistics" tab
Diagram Objects: Stamps