The MySQL Event Editor is provided for altering SQL views. To open the MySQL Event Editor, simply double-click an event on the diagram or select the Properties item from the context menu. The MySQL Event Editor contains several tabs, each of which will be described below.
General
This tab allows you to set the name of the event and write comments for it. There are the following fields on the tab:
Schedule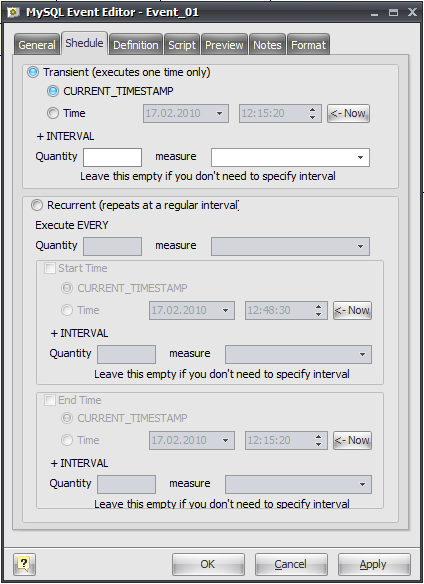 This tab allows you to set up event schedule. There are two types of events in MySQL:
Please refer CREATE EVENT Syntax topic of MySQL Manual for more details about event schedule options: http://dev.mysql.com/doc/refman/5.1/en/create-event.html
Definition
This tab allows to set the SQL statement(s) that provides the body of event. This SQL code will be executed at specified time.
Script
This tab allows you to set SQL statements, which will be executed before (use Begin tab) and after (use End tab) generation of the event.
Preview
The Preview tab displays the SQL statement, which will be executed during the database generation. This statement is made up according to the changes you have made using previous tabs. Note, that the text within the editor is read-only. The content of this tab updates only when your press Apply button.
Notes
The Notes tab allows you to define a description and an annotation for the edited event. This properties will not affect the physical database, but they can be useful for your diagram development.
Format
These options allow you to set the event symbol line and fill color for displaying on the diagram, different from the default colors.
See also:
Diagram Objects: Events | Creating an Event | Event Manager